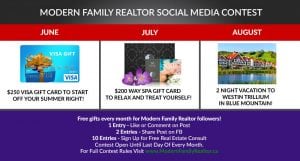 Recently we selected Natalia and Brett as the June contest winners for the Modern Family Realtor social media campaign! They took home a $250 Visa gift card. Thank you to all of the 300+ entrants! It was amazing to see such a great turnout.
Keep your eyes out for the June and August contests as the same rules apply! We will be giving away a Spa gift card as well as a vacation to our vacation property in Blue Mountain!
We announced the winners for the July contest on Facebook Live, so for any of you that entered the FIFA contest, please tune in to find out the winner of the contest once the World Cup concludes!
How to win?
-1 Entry for Liking or Commenting on the Post!
-2 Entries for Sharing the Post on Facebook!
-10 Entries for Signing up for a Free Real Estate Consult
Contest starts on the 1st of every month and ends on the last day of every month
Winner will be announced on Facebook and Instagram on the last day of each month1! Must be a resident of Ontario and 19 years old to enter.
Good luck to all!!