Skyrocketing housing prices in Toronto and Vancouver are destroying home ownership goals
By Sophia Harris, CBC News Posted: Aug 10, 2015 5:00 AM ET Last Updated: Aug 10, 2015 10:04 AM ET
Kat Armstrong is not ready to hunt for a new rental home. She and her husband Matthew moved their family into their current Toronto apartment less than two years ago. Plus, she recently gave birth to their third child.
But her landlord has just sold their building so Armstrong has reluctantly started the search for a new place. "It is exhausting, it's really stressful," says the 35-year-old. "We're at the whim of our landlords."
"We have no security for our kids."
She and her husband would love to become homeowners but that dream has been dashed. Both earn good salaries; Armstrong even runs a small business on top of her marketing job. But the family of five can't afford to buy a house in Toronto without taking on a crippling mortgage.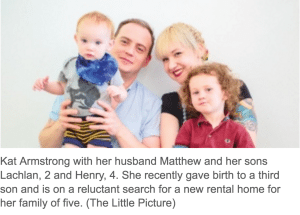 "Unless we were to win the lottery, I don't see it happening," she says.
Armstrong is resigned to a life of renting and so are many living in Toronto and Vancouver. Both cities have red-hot real estate markets where the average detached house is now selling near or over $1 million.
Frustrations recently reached a boiling point in Vancouver thanks to a social media campaign. It was sparked by renter, 29-year-old Eveline Xia. Fed up with out-of-reach real estate prices, she tweeted#DontHave1Million. The hashtag went viral, spurring a conversation about affordability and a rally to protest the high cost of housing in the city.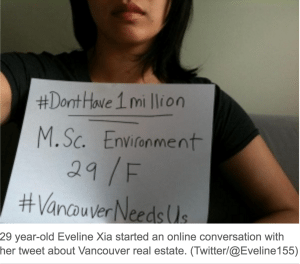 Eroding affordability
Despite the outcry, there appears to be no relief in sight. A recent RBC report noted that home ownership affordability continued to deteriorate in both Vancouver and Toronto in the first three months of this year.
According to the bank's calculations, a standard two-storey house in Vancouver sold for an average $929,000, requiring a whopping 86.9 per cent of the median household income in the city to cover the mortgage and related costs. In Toronto, the average price was $759,800, requiring 67 per cent of household income to foot the bills.
The report also predicted the situation will only worsen in both locations due to "strong price momentum."
It's just more bad news for Vicky Shearer. She lives with her husband and three children in a rented Vancouver apartment.
They also find themselves at the mercy of their landlord; this is their second rental in the past five years.
"It definitely makes you feel less stable and less connected to the city," says Shearer about renting. But the 34-year-old believes home ownership is not in the cards.
"The average home that would fit our family is selling for $1.5 million." Shearer, who works for a non-profit, says that price is out of reach for her and her therapist husband even though both make good salaries.
She admits they could afford to "cram" the family into a "two bedroom plus den condo" but says it wouldn't be worth the purchase price. Space would be a problem and they could only afford to buy in a neighbourhood far from their work and the children's schools.
"The thing that stops us from buying is quality of life," she says.
Affordable … on paper
Jessica Moorhouse thought she could finally afford to buy a house when she left Vancouver. She recently moved with her husband Josh Bowman to Toronto where real estate is at least slightly cheaper.
On paper, her goal appeared within reach — after scoping out listings, she figured she and Bowman could score a two-bedroom bungalow for around $500,000.
In January, they launched their search and Moorhouse saw their home ownership dreams erode with every house they toured.
She discovered properties in their price range often "looked like crap-holes. All these houses needed a lot of work and attention to things like, OK, you've got asbestos, you've got [bad] wiring and they're not going fix it because they can still sell it."
She and her husband finally found a small house they liked with a $519,000 price tag. But they lost out in a bidding war to a buyer who offered $70,000 over asking on a flood-prone home that needed major repairs. "It was kind of disappointing and disheartening," says the 29-year-old digital marketer and personal finance blogger.
Not wanting a dilapidated house or the burden of a massive mortgage, the couple eventually threw in the towel.
"It's frustrating," says Moorhouse. "I did all the right things that my parents and grandparents have done and yet I can't reach that same [home ownership] goal."
She's now resigned to renting in a real estate market she feels is out of control.
Out of control rental market?
A recent TD Economics report noted that due to escalating home prices in Toronto, "renting is expected to become a more popular choice." But it also noted that that trend will lead "to a further tightening supply in the rental market."
Mother-of-three Armstrong says she's already worried about Toronto's rental situation. So far, her family's new home search is not going well. She found one affordable apartment but says it was "a dump" that would require new flooring and appliances.
"We're finding it's kind of impossible," she admits.
Shearer has a secure apartment for now for her family of five. But she wonders about renting in Vancouver over the long term. "The rentals just seem to be disappearing and they're going to be increasingly out of reach," she predicts.
For people who can't afford to buy, there has always been the option of renting. But a new crisis could emerge if, in Toronto or Vancouver, suddenly finding a decent rental also becomes out of reach for many.