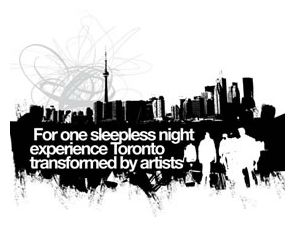 Don't miss this amazing all-night, city-wide contemporary art event!
The magic of Nuit Blanche returns to Toronto on Saturday, September 30th when hundreds of artists will transform the city with contemporary art projects that take place from nightfall to the crack of dawn!
The 12th edition of Nuit Blanche will feature more than 350 artists and 80 art projects from Toronto's art community along with 4 curated exhibitions produced by the City of Toronto.
Nuit Blanche Toronto 2017 will mark the milestone of Canada's 150th anniversary of confederation with the event-wide theme "Many Possible Futures".   The focus is on looking forward and placing both our differences and our solidarities at the heart of artistic discourse
It's easy to access the all-night art show by foot, bike, transit or car.  There will be extended TTC service on part of the subway line and partial road closures will make access easy for pedestrians.  Experience the exhibitions, explore different neighbourhoods and take in the all-night art party!