MODERN FAMILY REALTOR LEADERSHIP SCHOLARSHIP AWARD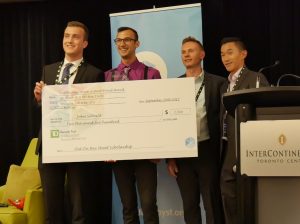 This month we had the privilege to speak and present our Modern Family Realtor Leadership Scholarship to two deserving students who have really given back to the LGBTQ community. It was an honour to see so many young students at the Out on Bay Street Conference who have accomplished so much at such a young age.
It gives us hope that we are in good hands with the next generation of millenials being so innovative, volunteering with so much energy and creativity. Ewan and I love this part of the job where we can give back to the community and help people and charities. We can combine our passion for real estate with our Gives Back Campaign to help organizations and people we care about.