As of the morning of Monday, April 6, TRREB will introduce a tool that will allow Members to add links for Live Stream Open Houses to their listings so that interested clients can join the Salesperson in real time as they walk through the property, present its features, and answer their questions.
You will now be able to promote upcoming Live Stream Open House showings on your Collab listings, on TRREB's public listing site (TRREB.ca ), as well as on REALTOR.ca .
Links for Live Stream Open Houses can be added to your listing using the Manage My Profile interface, in much the same way that you would promote a regular Public Open House. When entering the new open house, you simply need to specify the open house type.
As a reminder, TRREB has suppressed the display of regular public open houses on TRREB's Stratus MLS® System and our public facing websites TRREB.ca , Collaborate, and realtor.ca  (owned by CREA), until it is safe to restore them.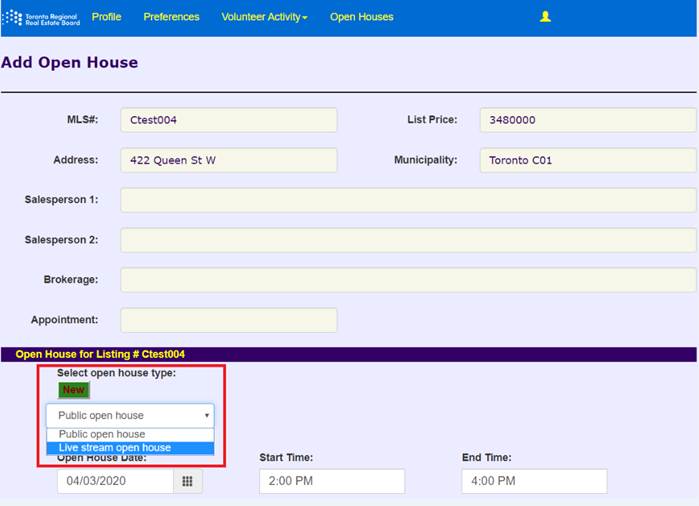 Once you've entered your live streaming events, the links will become available online, and visitors to those listings will be able to join Live Stream Open Houses over the Internet.
Links for Live Stream Open Houses will be displayed on Collab reports, on TRREB's public listing site (TRREB .ca ), as well as on REALTOR.ca .

A Live Stream link will stay visible up to the date of the Live Stream Open House, and for the rest of the day after the presentations, in the same way that regular expired Open House links are removed.
As a convenience, Clients will also be able to search for property listings that are promoting Live Stream Open Houses.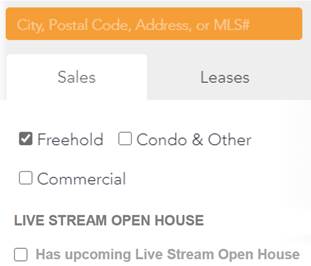 As of Tuesday, April 7, the same Live Stream Open House links will also be sent to CREA and will be displayed on REALTOR.ca .

The post Live Stream Open Houses appeared first on TRREB Wire .