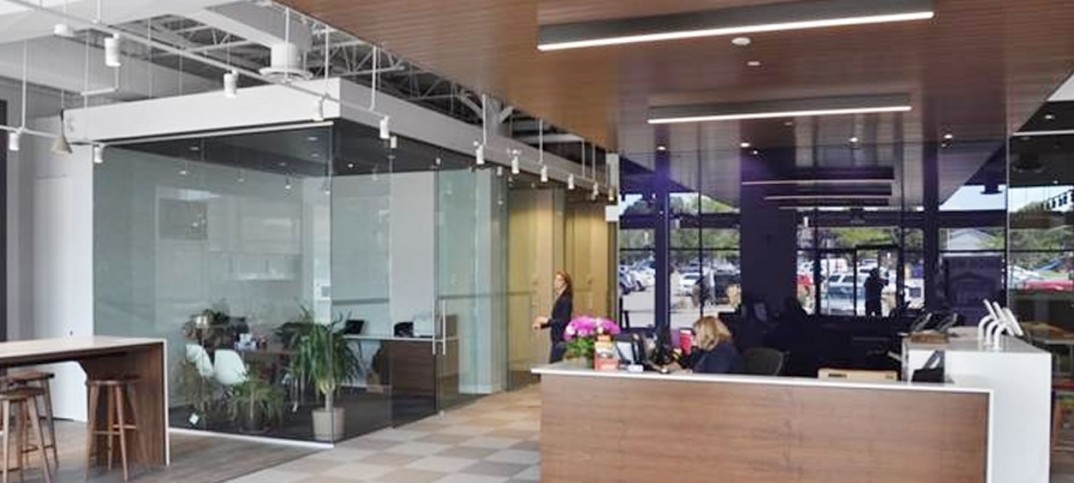 "We're investing heavily not just in technology but in our work space," says Howard Drukarsh.
By Susan Doran
Canada's largest independent real estate brokerage, Right At Home Realty, is about to open its new flagship office next door to the Toronto Real Estate Board (TREB). And that's definitely not a coincidence.
When it's pointed out to Howard Drukarsh, Right At Home's co-founder/president/broker of record, that being TREB's immediate neighbour in Toronto's Don Mills neighbourhood is bound to be helpful in the recruitment of sales reps, his tongue-in-cheek reply is, "Oh really? I never thought of that."
The truth of course is that, as with most of its endeavours, Right At Home has definitely thought things through.
"Our new flagship Toronto office is literally eight feet from TREB. It's a competitive business and we were smart enough to get that location," says Drukarsh. "Why not be next door to TREB, where everyone who's a member has to go to take orientation?"
It's a savvy move and there's no mistaking the "in-your-face" factor. Drukarsh, a TREB director himself, is well aware that his company's new office can't possibly be missed by TREB members.
Right At Home can be excused for flaunting its own success. The company's business model (which rather than commission splitting involves agents paying only low transaction and monthly fees) initially led many to dismiss Right At Home as merely a discount brokerage. Now, with the company's success and multiple offices, people tend to mistakenly think that Right At Home is an American franchise, Drukarsh says.
He and the rest of the management team are keen for the company to be recognized for what it is, and are taking steps to be sure that happens.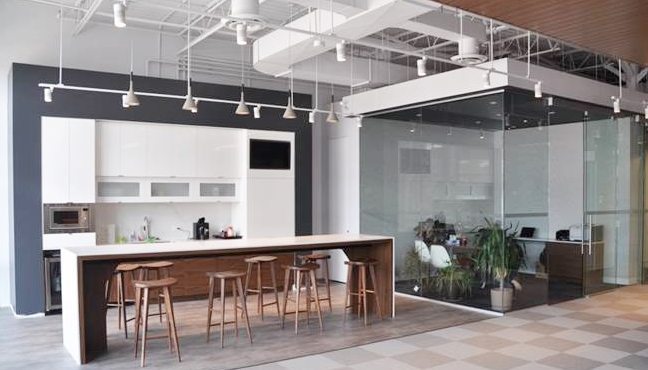 Long "community tables" allow agents to work on their own or collaborate with other sales reps.
We are wholly Canadian owned and operated," Drukarsh says. "Since 2013 we've been TREB's No. 1 brokerage for combined units sold….We're the largest independent in Canada – I'd like to see anyone prove otherwise….We are extremely well financed and run as a corporation, with a board of five experienced successful business people… At 3,000 agents, there are no other independents our size, and other independents are not multi-office corporations like we are. So there is no competition in our space. There is lots of opportunity left for us."
The firm's new 2,400-square-foot flagship office, scheduled to open by the end of this year, is part of a major re-branding drive currently underway at the company. A similar and equally stunning design treatment is planned for Right At Home's five other offices, located throughout the Greater Toronto Area.
"We are adding more value to our proposition," Drukarsh says, adding that each of the office redesigns will cost "many hundreds of thousands of dollars."
The company plans to expand into new offices and areas as well.
Leading-edge office design is a pivotal component of the branding effort and will include big bright glass spaces; huge video walls; iPads mounted around the reception area; and impressive work areas and client and training rooms.
"When we started out in 2004 we had a limited budget and our offices reflected that," says Drukarsh. "Now we are a retail-like brand with offices on busy streets or in busy malls. There's a sense of difference in this – in not looking or feeling like a real estate office."
Many of the re-designed, strategically located storefront-type spaces planned are relatively vast – 3,000 square feet for the Burlington office, and 4,000 square feet for the Mississauga office.
"That's like a small Loblaws in size," says Drukarsh.
"We want new. We want awareness," he says "We think we are designing the future of the real estate office."
In today's world, technology is a big part of that future.
"In addition to the systems we place in our offices, we've invested in the most recent methods for agents to use the Internet and process transactions. And we have our own, very active call centre that allows us to control quality," says Drukarsh.
"We're investing heavily not just in technology but in our work space," he continues, "going from office to retail space – and not just retail space, but very unique retail space and all the benefits that entails."
One anticipated advantage is increased walk-in traffic. Rather than being invisible at the back of the office, agents' work stations will be at the front where they can be seen by passersby, with the hope that this stimulates interaction.
"We'll have offices where people will actually want to come in and talk," says Drukarsh. He's referring to both consumers and sales reps, since with the dominance of the Internet, many agents don't come into the office much anymore.
But Drukarsh says that when they do, at Right At Home they will hopefully find that the long "community tables" where they can work on their own or collaborate with other sales reps will promote a sense of belonging.
"We looked at how successful retail operations like Starbucks do it," he says. That's the kind of atmosphere Right At Home is aiming for in its offices.
Drukarsh is aware that in many ways, Right At Home is going against a growing trend to close/consolidate offices.
"We started out as a game changer with our business model and now we're looking at technology as a game changer as well as our physical space," he says. "We started out changing the way people do real estate and now continue to do so, and to do the things we do well."