Toronto's hot real estate market continues to show no signs of cooling down
Fri., Sept. 4, 2015
The average sale price of homes across the GTA was up 10 per cent in August to $602,607 and sales climbed 5.7 per cent as Toronto's hot real estate market continued to show no signs of cooling down.
Leading the way, once again, were condo sales which were up almost 14 per cent as more people searched for alternatives to low-rise detached, semi-detached and townhomes, which continue to climb out of reach.
That strong demand helped push up condo prices by 9.5 per cent in the City of Toronto and 4.1 per cent in the 905 regions, to an average of $406,587 and $319,764, according to figures released by the Toronto Real Estate Board Friday.
The average sale price of a detached house in the City of Toronto remained firmly above $1 million, at $1.017 million, up 12.9 per cent year over year, despite an 8.5 per cent decrease in sales. That is like more a reflection of lack of supply.
In the 905 regions, the average sale price of a detached house hit $733,577, up 13.8 per cent. Sales were up 7.5 per cent.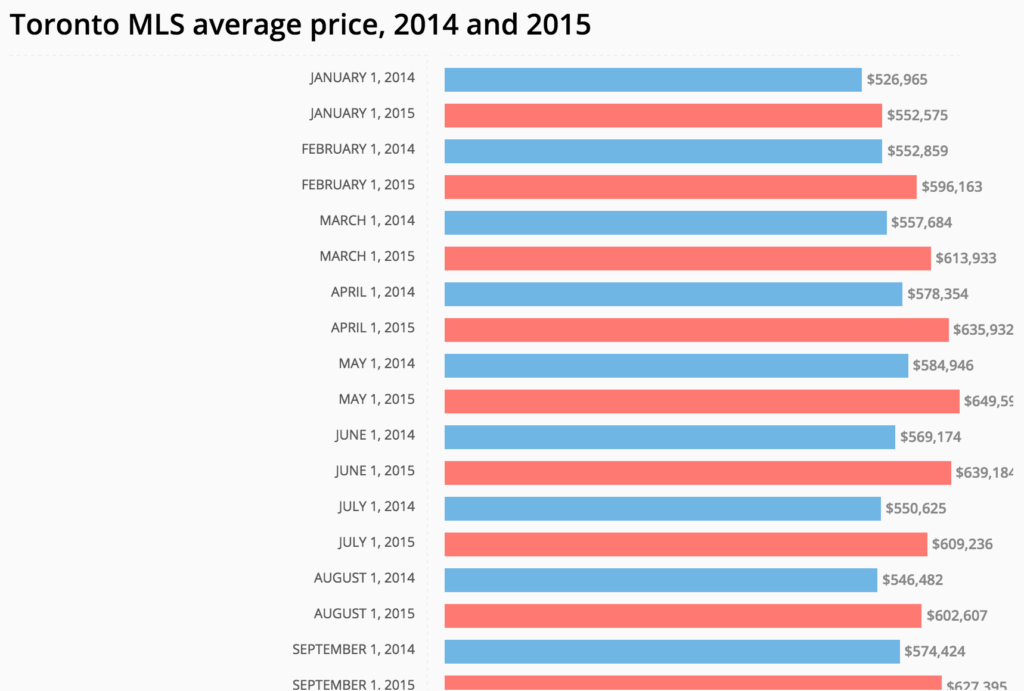 The one encouraging note in the numbers was the increase in new listings, although even that proved to offer little relief for buyers looking to find a home with a patch of grass rather than a glass balcony.
While new listings were up 8.3 per cent in August, the total number of homes available for sale, known in the industry as active listings, were actually down 10.5 per cent. That's because the number of buyers continues to far outstrip the number of properties for sale, with the frenzy fuelled by interest rates that are now expected to stay low for some time given Canada's sluggish economy, the impact of low oil prices and the continuing chaos playing out on world stock markets.
"A record year for home sales continued to unfold in August as competition between buyers exerted upward pressure on selling prices," said Jason Mercer, TREB's director of market analysis in a statement.
"It was encouraging to see annual growth in new listings outstrip annual growth in sales, but we will need to see this for a number of months before market conditions become more balanced."

A total of 7,998 homes changed hands in August, up from 7,568 a year ago. Toronto remains on track for sales this year to exceed the previous record of 93,193 homes set back in 2007 before the recession took hold.
Last month the average price of a semi-detached home in the 416 region climbed 5.5 per cent to $662,968 while they were up 10.5 per cent in the 905 regions to $492,428. Sales of semis were actually down 5.7 per cent in the 416 region and up 5 per cent in the 905 regions.
The average townhouse sale price was up 13.2 per cent in the City of Toronto, to $524,136, while prices climbed 11 per cent in the 905 regions to $451,311. Sales were relatively flat, up 1.3 per cent in the City of Toronto and 0.5 per cent in the 905 regions.