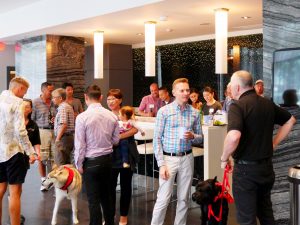 At the end of August we hosted our first ever Modern Family Realtor Charity Auction with the support of our charities, business partners and clients.  The event was hosted downtown Toronto at the Couture with over 14 auction items donated.  By the end of the day we raised over $1,400 from our silent auction with all proceeds going towards helping our 17 charities this year.
Thank you to Save Me Rescue and St John Ambulance for bringing your volunteers and therapy dogs.  You truly brought the charity and giving back vibe to the event.  To our clients, family and friends your continued support of our business means the world to us.  Finally, to my team thank you for the months of organizing for this event and your hard work every day.
We hope to continue this tradition and raise more funds next year!