Nov 05, 2015|Markham Economist & Sun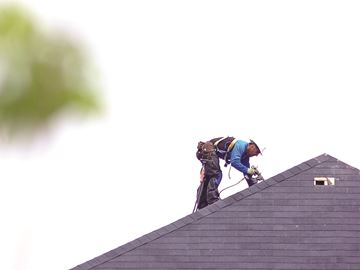 Up on the roof
A roofer finishes a job in Vaughan in this file photo. York Region house prices continue to climb, where the average price of a detached home was near or exceeded $1 million in most communities in October.
York Region was the hottest real estate market for the sale of existing homes in the Greater Toronto Area in October 2015, a month the Toronto Real Estate Board is calling their best October on record, according to its monthly market report released this week.
GTA realtors reported more than 8,800 home sales in October, TREB president Mark McLean said.
The MLS Home Price Index Composite Benchmark was up by 10.3 per cent year over year in October. Over the same period, the average selling price for all home types combined was up by 7.3 per cent to $630,876.
The biggest increase was seen in York Region, when the overall increase was 14.7 per cent. Single family detached, attached and townhouses in York Region all saw hikes in excess of 14 per cent, according to TREB's numbers. By comparison, the City of Toronto's composite or overall average increase for all property types was 8.2 per cent.
The average price of detached homes sold in York Region last month was $972,000. By community the average price for a detached home was: Georgina $405,192, Newmarket $708,155, Aurora $824,553, Whitchurch-Stouffville $949,636, Vaughan $957,781, Markham $1,097,684, King $1,130,559, and Richmond Hill $1,216,834.
A total of 905 detached homes, 129 semi-detached homes, 73 condominium townhouses, 218 condo apartments and 212 attached row townhouses were sold in York Region in October, according to TREB's stats.
"It is clear that many GTA households remain upbeat about home ownership because owning a home represents a high quality, long-term investment. We will see a big, new record this year for home sales reported through TREB's MLS System," McLean said.
Recent reports suggest home buying in the so-called "905", the area code outside the city of Toronto, is helped by the fact buyers  in these communities do not have to pay a second municipal land transfer tax.
"Despite the record October result, I must point out that the Government of Ontario could hamper home sales in the near future," McLean said in a media release.
"The Wynne government is seriously considering allowing municipalities throughout Ontario to institute a second land transfer tax on top of the existing provincial tax. Recent polling has shown that the great majority of Ontarians oppose this tax and would consider delaying a move if they were forced to bear the additional upfront cost."
Overall, TREB said price growth continued to be driven by the low-rise market segments.
"Record sales coupled with a constrained supply of listings in many GTA neighbourhoods has underpinned very strong price growth throughout 2015." said Jason Mercer, TREB's director of market analysis. "Even if we do see a greater supply of low-rise listings in the marketplace over the next year, market conditions will remain tight enough to see continued price growth well-above the rate of inflation."