Toronto Real Estate Board President Michael Collins announced that Greater Toronto Area REALTORS® reported 7,825 sales through TREB's MLS® System in September 2019. This result represented strong year-over-year sales growth of 22 per cent compared to 6,414 sales reported in September 2018. It is important to note, however, that sales remain well-below the record September 2016 peak of more than 9,800 sales.
On a preliminary seasonally adjusted basis, the September 2019 sales level remained in virtually the same as the August 2019 result.
The supply of listings continued to be a concern in September 2019, with new listings down by 1.9 per cent year-over-year to 15,611. We have experienced multiple months this year wherein the annual rate of sales growth outpaced the annual rate of new listings growth, resulting in the overall number of active listings at month-end being well-below last year's levels. This speaks to tightening market conditions and an accelerating annual rate of price growth.
"Demand for ownership housing increased throughout the spring and summer of 2019 compared to the very slow pace of sales experienced in 2018. That being said, many first-time buyers are still experiencing difficulty finding an affordable home. Federal parties vying for seats in the October election have pledged to alleviate affordability issues hampering first-time buyers with a variety of policy proposals. While these demand-side proposals are important, it is also important that all levels of government remain focused on promoting a sustainable supply of different housing types moving forward," said Mr. Collins.
The annual rate of price growth in September reached the highest point so far in 2019. The MLS® Home Price Index (HPI) Composite Benchmark was up by 5.2 per cent on a year-over-year basis in September. The average selling price for all home types combined was up by a similar annual rate of 5.8 per cent to $843,115.
On a preliminary seasonally adjusted basis, the September 2019 average selling price was up by 1.2 per cent compared to August 2019.
"It is interesting to note that market conditions for detached homes have tightened over the past year. In many of the regions surrounding the City of Toronto, detached price growth was above the rate of inflation on an annual basis. Consumer polling conducted for TREB over the past few years has pointed out that many intending home buyers are still focused on ground-oriented housing. This points to the need for a greater diversity of housing types to bridge the gap between detached houses and condominium apartments," said Jason Mercer, TREB's Chief Market Analyst.
"Statistics Canada's most recent national population estimate represented the highest twelve month population increase ever recorded. This growth was driven by immigration, of which the GTA was likely a key beneficiary due to its strong regional economy and diversity. As a result, the demand for all types of housing in the GTA – rental and ownership – will remain strong. This fact underpins the need for immediate and sustained action on housing supply," said TREB CEO John Di Michele.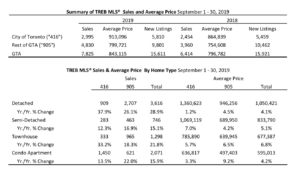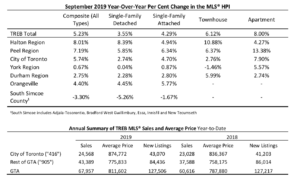 The post TREB RELEASES SEPTEMBER MARKET FIGURES AS REPORTED BY GTA REALTORS® appeared first on TREB Wire .