TREB RELEASES APRIL MARKET FIGURES AS REPORTED BY GTA REALTORS®
TORONTO, ONTARIO, May 6, 2019 – Toronto Real Estate Board President Garry Bhaura announced that Greater Toronto Area REALTORS® reported a substantial year-over-year increase in home sales in April 2019. The number of residential transactions jumped by 16.8 per cent to 9,042 compared to 7,744 in April 2018. On a preliminary seasonally adjusted basis, sales were up 11.3 per cent compared to March 2019.
New listings were also up year-over-year by eight per cent. However, the annual growth rate for new listings was much lower than that reported for sales. This suggests that market conditions continued to tighten which points toward an acceleration in price growth.
"The strong year-over-year growth in sales is obviously a good news story and likely represents some catch-up from a slow start to the year. TREB's sales outlook for 2019 anticipates an increase relative to 2018. It should be noted, however, that growth in new listings is not keeping pace with sales. This points to the ongoing housing supply issue in the GTA. In this regard TREB welcomes the provincial government's Housing Supply Action Plan announced last week to reduce red tape and improve the mix of housing types. TREB provided input on the Plan through submissions and participation on working groups," said Mr. Bhaura.
The year-over-year rate of price growth generally edged up in April relative to the first three months of the year. The MLS® HPI Composite benchmark was up by 3.2 per cent – the highest rate of growth in more than a year. The average selling price was up by 1.9 per cent to $820,148, representing the strongest annual rate of growth so far in 2019. On a preliminary seasonally adjusted basis, the average selling price was also up by 1.1 per cent compared to March 2019.
Price growth continued to be driven by the condominium apartment segment and higher-density low-rise segments. The average price for detached houses dipped year-over-year, specifically in regions surrounding the City of Toronto. The detached market segment, with the highest price point on average, has arguably been hardest hit by measures such as the OSFI stress test.
"While sales were up year-over-year in April, it is important to note that they remain well-below April levels for much of the past decade. Many potential home buyers arguably remain on the sidelines as they reassess their options in light of the OSFI-mandated two percentage point stress test on mortgages. Longer term borrowing costs have trended lower this year and the outlook for short-term rates, for which the Bank of Canada holds the lever, is flat to down this year. Unfortunately, against this backdrop, we have seen no movement toward flexibility in the OSFI stress test," said Jason Mercer, TREB's Chief Market Analyst.
Tight market conditions in the condominium apartment rental market remain in place. Year-to-date (January 2019 through April 2019) condominium rental transactions for one-bedroom and two-bedroom apartments were up by 10.2 per cent and 9.7 per cent respectively compared to the same period in 2018. Average year-to-date rents for one- bedroom apartments were up by 7.3 per cent on an annual basis to $2,150. Over the same period, two-bedroom apartment rents were up by 4.1 per cent to $2,815.
"The supply of ownership and rental housing is of paramount importance to the GTA, from the perspective of affordability and economic competitiveness of the region, insofar as talented people are more likely to move to the region if they can easily find housing that meets their needs within their budgets. With this in mind, it is also important to think about housing supply through the lens of public transportation. TREB has been highlighting the important links between housing and transportation for a number of years, including through research conducted for TREB by CANCEA and the Pembina Institute dealing with transportation infrastructure's impact on affordability and transit supportive development respectively. TREB will continue research in these areas moving forward," said TREB CEO, John DiMichele.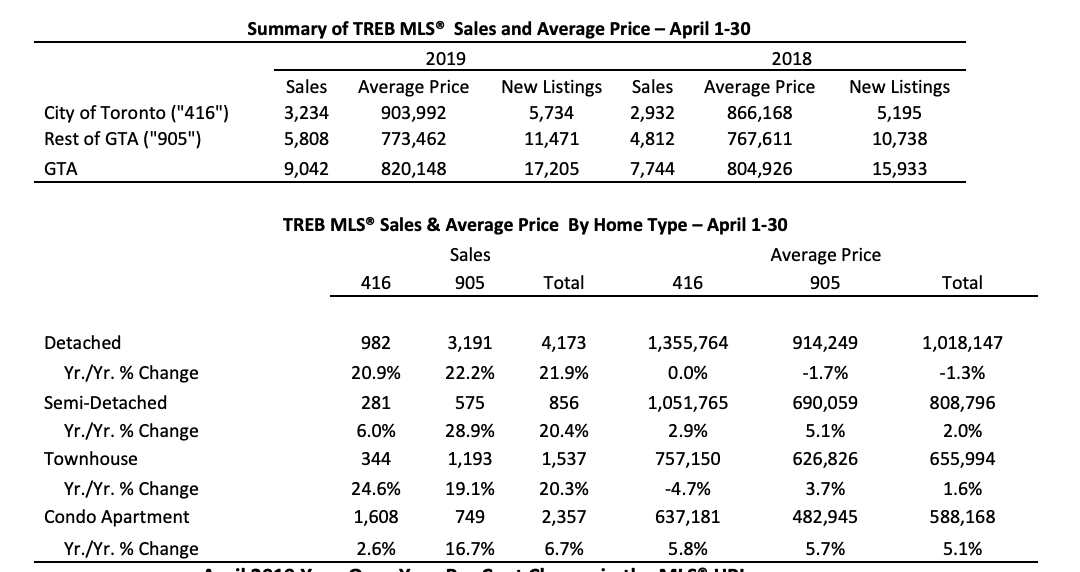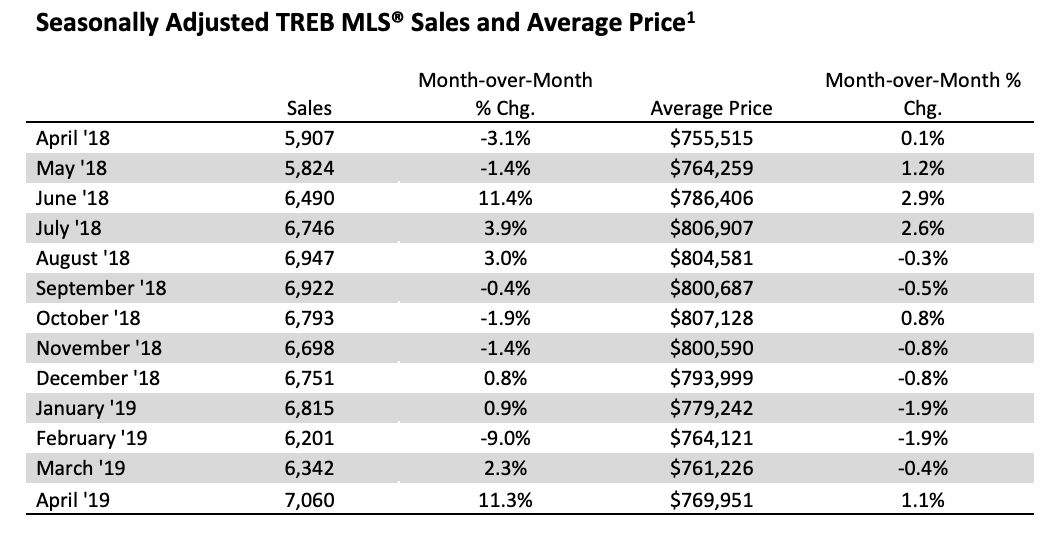 For the full report click here: TREB Market Watch April 2019
Media Inquiries: Mary Gallagher, Senior Manager, Public Affairs [email protected] (416) 443-8158
TREB is Canada's largest real estate board. Over 53,000 residential and commercial TREB Members serve consumers in the Greater Toronto Area. Greater Toronto REALTORS® are passionate about their work.They are governed by a strict Code of Ethics and share a state-of-the-art Multiple Listing Service®.
The post TREB Releases April Market Figures appeared first on TREB Wire .