By: Tim Syrianos
May is a very exciting month for the Toronto Real Estate Board, as it is the month where TREB hosts major Member events including TREB FEST and REALTOR® QUEST, along with a celebration of home ownership on National Real Estate Day (May 17, 2018).
TREB FEST
One of the most exciting TREB networking and fundraising events of the year was held on Thursday, May 10, at Cube Nightclub in downtown Toronto. More than 300 TREB Members and their guests came together for TREB Fest 2018 in support of Homes First .
TREB FEST offered Members in attendance countless opportunities to network, while having fun with colleagues. The night's festivities included dancing, plenty of "pay-to-play" entertainment, a souvenir photo booth, and a live auction.
Money raised for the event through ticket sales and entertainment was donated to Homes First. This shelter-based charity was chosen because of the great work they do.
Established in 1983, Homes First is one of the largest providers of social housing in the City of Toronto and helps to provide shelter for more than 550 seniors, families, and vulnerable adults to help break the cycle of homelessness.
Community involvement and giving back are core components of TREB FEST, and the annual event marks a key example of how TREB Members play a positive role in the communities they serve.
TREB FEST 2018 was made possible thanks to the hard work of the TREB FEST Task Force. Thank you for your efforts!
To see event highlights, visit TREB's Facebook page here .
REALTOR® QUEST
REALTOR® QUEST is a long standing industry event (not open to the general public), and is Canada's largest real estate trade show and conference! TREB Members and REALTORS® from across the country attend this annual two day event that offers some of the best networking opportunities there is. Jam-packed with professional development programs and presentations, expert keynote speakers, and hundreds of exhibitors offering our Members the latest in technology, services and tools. This event is truly one of a kind and designed to enhance the knowledge and skills TREB Member REALTORS® offer to best serve their clients.
For those that are attending, you can download the REALTOR® QUEST APP from the Apple Store or Play Store to help you plan and maximize your experience at the event.
And whether you're in attendance or not, you will want to follow us on Facebook, Twitter and Instagram where we will be showcasing this year's event. Join the conversation or share your experience using #REALTORQUEST.
National Real Estate Day
 Every year on May 17, TREB and others come together to celebrate National Real Estate Day, a day where TREB proudly commemorates the Canadian dream of home ownership and the homeowners who work hard to achieve that dream.
The day started off with an appearance on Breakfast Television to give away our grand prize The lucky winner of the contest received a $3000 Rona Home and Garden gift card.
Throughout the day TREB also hosted social media contests where five lucky winners won $100 home gift cards.
A special congratulations to all of this year's winners! And hope everyone joins us again next year for more celebrations.
Here is an infograph that captures the importance of home ownership.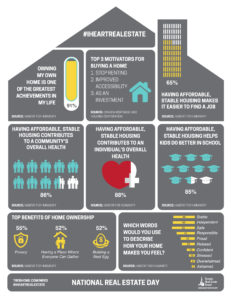 The post TREB Events appeared first on TREB Wire .