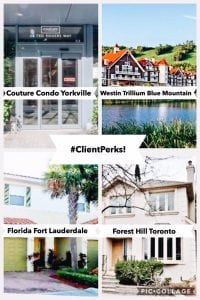 "All Clients Have Access To All 4 Of Our Properties!"
1. Clients can use the Westin Trillium a 4-star resort in Blue Mountain for a 2 to 4-night vacation to relax in the pool during the Summer or ski in the Winter.
2. The Couture condo near Yorkville downtown Toronto can be used for a short-term stay while looking to buy or waiting for renovations to be completed at your dream home.
3.  Escape to Florida during the cold Winter months to get some sun and beach at our townhouse in Fort Lauderdale.
4.  Need space for a large family or relatives coming over feel free to stay in our home office in Forest Hill with access to 4 bedrooms.
Escape for the summer by booking your time slot today! Space is running out and the scheduling works on a first come first serve basis. Please email all inquiries to [email protected]!