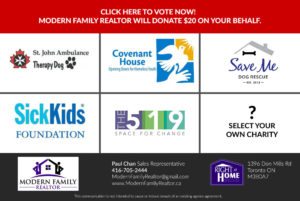 We would like to invite you and a guest to join us for our upcoming Modern Family Realtor Charity Auction on August 26, 2017 at the Couture in Toronto. There will be complimentary food and drinks, therapy dogs to pet and opportunities to network with local businesses and charities.
Date – August 26, 2017
Time – 12:00pm – 3:00pm
Location – 28 Ted Rogers Way, Toronto
Please RSVP to [email protected] by August 23 with your guest names and contact details.
If you cannot make the event you can still bid on items by sending an email to [email protected]. Last bid will be taken on August 26 at 3pm.
Bid online today for the below auction items and support Sick Kids, the 519, Save Me Rescue, St. John's Ambulance and Covenant House!!
Westin Vacation donated by Modern Family Realtor Value $900 Starting bid $75
Catered Dinner for 10 donated by Food Dudes Value $500 Starting bid $50
Blue Jays Tickets Sept 12 donated by Scotiabank Value $180 Starting bid $25
Will Package donated by Alexander Hu Value $750 Starting bid $75
Beauty Day for 2 donated by JustB Salon Value $200 Starting bid $25
Yam Chops Gift Card donated by Yam Chops Value $50 Starting bid $10
Yoga for 1 month donated by Moksha Yoga Value $160 Starting bid $15
Amazon Gift Card donated by Vine Group Value $100 Starting bid $20
Angelos Garden Gift Card dontated by Freshly Cut Value $50 Starting bid $10
Haircut & Style donated by Afif Salon Value $75 Starting bid $15
Plus much more!
Thank you to all of our generous sponsors!