Over 8,000 real estate and industry professionals converged upon the Toronto Congress Centre for TREB's 18th annual REALTOR® QUEST, Canada's largest real estate trade show and conference. Attendance was up over 2017!
With REALTORS® in attendance from across Canada and the US, the successful event had something for everyone, including exciting featured keynote presentations, our new TREB Trends series, plus Learning Quest professional development sessions, a newly-expanded trade show, and several other attractions.
SPRING ANNUAL MEETING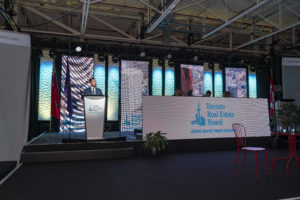 TREB's Spring Annual Meeting convened on the morning of May 30.
REALTOR® QUEST kicked off with TREB's Spring Annual Meeting on the morning of May 30. The meeting drew over 1,200 TREB Members to a full house, who came out to receive updates on important Association matters from TREB President Tim Syrianos and CEO John DiMichele, as well as catch a featured keynote presentation on the economy from CIBC Deputy Chief Economist Benjamin Tal.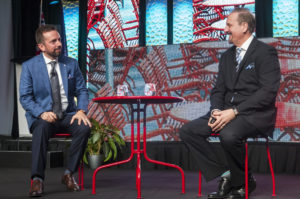 FROM LEFT TO RIGHT: Tim Syrianos, 2017/2018 TREB President and John DiMichele, TREB CEO.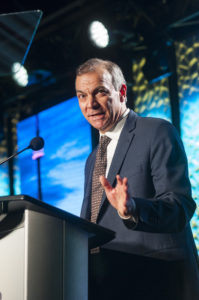 Featured Keynote Speaker: Benjamin Tal, CIBC Deputy Chief Economist.
Members were asked to vote on proposed changes to TREB's By-Law, as well as to vote on TREB's annual charitable contribution of $12 per Member to the Ontario REALTORS Care® Foundation's Every REALTOR® Campaign.
A full house of TREB Members votes on proposed amendments to the TREB By-Law.
Representatives from other real estate and industry associations, including CREA, OREA and RECO, were also on hand to share their updates.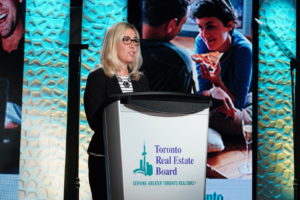 Barb Sukkau, President, CREA.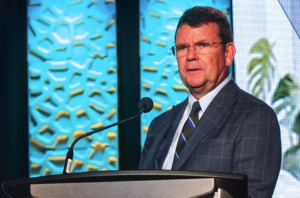 Michael Bourque, CEO, CREA.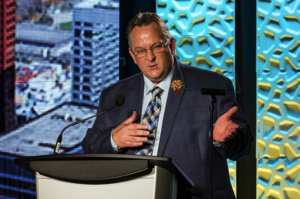 David Reid, President, OREA.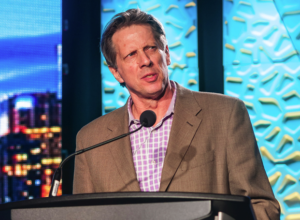 Michael Beard, President, RECO.
Additionally, several awards were presented to some outstanding TREB Members.
The meeting's attendees were also among the first to hear the winners of TREB's 2018/2019 Board of Directors Elections, including 2018/2019 TREB President-Elect, Michael Collins.
FEATURED KEYNOTE PRESENTATIONS
From tech and real estate experts, to futurists, and a world-renowned motivational speaker, REALTOR® QUEST 2018 boasted an exciting lineup of featured keynote speakers.
One of this year's highlights included a standing room only featured keynote presentation from Mel Robbins, bestselling author of The 5 Second Rule. Speaking to a packed audience, Robbins delivered an inspiring talk on how to "Achieve Breakthrough Performance in Your Career & Life," which offered no shortage of actionable advice, life-changing tips, and case studies to learn from.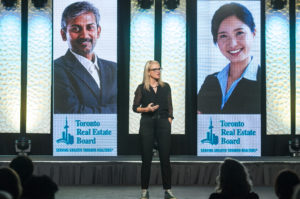 Featured Keynote Speaker: World-renowned motivational speaker Mel Robbins.
Attendees were also treated to featured keynote presentations from renowned economist and Member favourite, Benjamin Tal, who spoke on the GTA housing market and global economic trends at the Spring Annual Meeting; Rob Hahn, real estate influencer and creator of "The Notorious R.O.B." blog, who shared insights on how Realtors can protect themselves from an uncertain future; as well as trusted tech evangelist Marc Saltzman on the future of the smart home.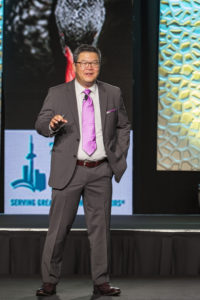 Featured Keynote Speaker: Rob Hahn.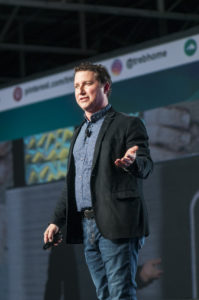 Featured Keynote Speaker: Marc Saltzman.
TREB TRENDS SERIES
New to REALTOR® QUEST for 2018 was our TREB Trends speaker series. It featured immersive presentations on this year's conference theme of the hottest trending topics in real estate, covering ground on the following themes: real estate teams, politics, sales, technology, entrepreneurship, and personal finance.
Kicking off TREB Trends on May 30 was Kijiji founder Janet Bannister, whose session chronicled her journey as an entrepreneur and founder of one of Canada's most visited websites.
Some of the amazing speakers who spoke as part of this new series on May 31 included Bruce Sellery, bestselling personal finance author and TV personality; Kathleen Black, elite sales coach of real estate teams; TREB CEO John DiMichele and real estate influencer Rob Hahn, who discussed the changing landscape of the real estate industry; and a highly-topical session on cyber security from Chris Mathers.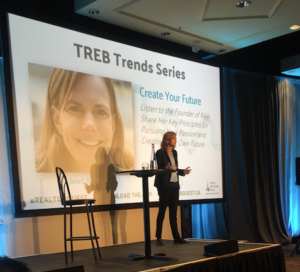 TREB Trends speaker: Janet Bannister, Kijiji.ca founder and Partner at Real Ventures.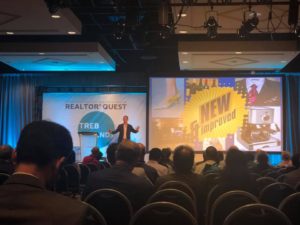 TREB Trends speaker: Bruce Sellery, bestselling personal finance author and TV personality.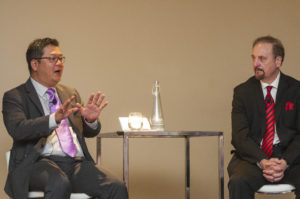 FROM LEFT TO RIGHT: Rob Hahn and John DiMichele, TREB CEO.
Plus, several attendees tuned in for TREB Trends' two panel sessions: "Professionalism & Compliance in Today's Industry," and "Provincial Election Candidates Debate Housing Issues," in which representatives from each major party debated issues of particular relevance to Realtors in the upcoming Ontario election.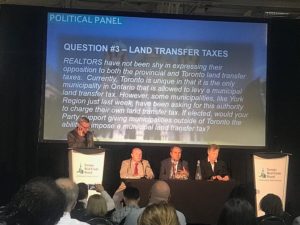 FROM LEFT TO RIGHT: (Moderator) John Moore, Newstalk 1010; The Honourable Peter Milczyn, MPP for Etobicoke-Lakeshore and Minister of Housing and Minister Responsible for the Poverty Reduction Strategy; Denzil Minnan-Wong, City Councillor for Don Valley East and Deputy Mayor for the City of Toronto; and Tom Parkin, former Political Staff with New Democratic Party of Ontario and New Democratic Party of Saskatchewan.
LEARNING QUEST 
Attendees at this year's REALTOR® QUEST had access to some of the best professional development in the industry, with over two dozen Learning Quest sessions to choose from.
From sessions on the commercial and residential real estate markets, new TREB services, sales coaching, online lead generation, and more, there was a learning experience targeted to every Member need.
Plus, this year's Learning Quest lineup included the following two sold-out designation courses:
Seller Representative Specialist (SRS) taught by TREB's former Chief Development Officer, Hugh Foy, on how to elevate professional standards and personal performance; and
Seniors Real Estate Specialist® (SRES®) taught by Mary Jones, on how to advise clients aged 50+ through major financial and lifestyle transitions.
Some of this year's insightful Learning Quest speakers and sessions included sales coach Bruce Keith, who shared his strategies on how to boost your business and handle the ups and downs of the marketplace; Tammy Evans, who spoke on the state of the condo market in 2018; Member favourite Mark Weisleder, senior partner with Real Estate Lawyers.ca, on how to read a title search; and a session on "The Top Mistakes REALTORS® Make and How to Avoid Them!" from former adult educator, journalist and television host, Sue Styles.
CENTRE STAGE AND PRIZES
There was no shortage of entertainment, prize giveaways, and networking opportunities at Centre Stage.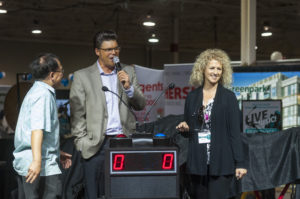 Attendees participated in plenty of games as part of the Network & Win! session.
Day One featured a Network & Win! session, which included giveaways of two Amazon Echos. On Day 2, television personality and tech expert Winston Sih hosted a My Favourite Apps! session, and finalists of TREB YPN's karaoke competition sang their hearts out for the title of TREB Superstar. Congratulations go out to our first TREB Superstar, Lloyd Taylor, Sales Representative, Royal LePage RCR Realty.
Plus, for the first time this year, both days concluded with a Member Networking Reception. Featuring the sounds of The Personics, the reception gave attendees a chance to unwind, dance, and connect with colleagues.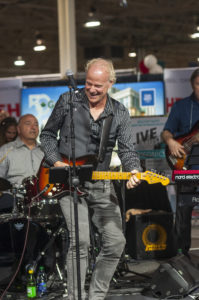 The Personics performed live at Centre Stage for the Member Network Reception.
Before each day of the conference came to an end, winners of our daily prize draw were invited to Centre Stage. Congratulations go out to Andrew Teodosia, Sutton West Realty,
and Mary Kapches, Bosley Real Estate Ltd, the winners of a free 2018/2019 TREB Membership.
TRADE SHOW, HEALTH QUEST & TREB PAVILION
This year saw an increase in trade show exhibitors, with over 260 industry exhibitors setting up shop on the newly expanded, 130,000 square foot trade show floor.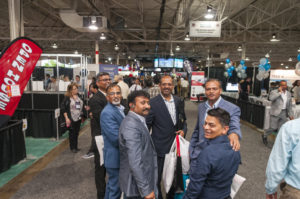 Attendees had over 260 industry exhibitors to explore over course of two days.
Other trade show attractions included Health Quest, which gave attendees a chance to unwind in a relaxed atmosphere while taking advantage of a variety of complimentary wellness services, as well as the revamped TREB Pavilion, where Members could learn more about existing and upcoming TREB services.
ONLINE: To view a photo Facebook photo gallery of the event's festivities, please click here .
REALTOR® QUEST 2018 was an event to remember, and TREB would like to thank all who attended.
SAVE THE DATE: REALTOR® QUEST 2019
We hope to see many of you at next year's trade show and conference on May 29 & 30, 2019! Watch below for highlights of what's in store!
The post Highlights of REALTOR® QUEST 2018 appeared first on TREB Wire .