GTA REALTORS® RELEASE MONTHLY RESALE MARKET WATCH REPORT
TORONTO, ONTARIO, December 5, 2018 – Toronto Real Estate Board President Garry Bhaura announced the continuation of moderate price growth in November 2018 compared to November 2017. The MLS® Home Price Index (HPI) Composite Benchmark was up by 2.7 per cent year-over-year. The average selling price was up by 3.5 per cent year-over-year to $788,345.
Greater Toronto Area REALTORS® reported 6,251 residential transactions through TREB's MLS® System in November 2018. This result was down by 14.7 per cent compared to November 2017, when we saw a temporary upward shift in demand as the market was distorted by the looming OSFI-mandated stress test at the end of last year.
"New listings were actually down more than sales on a year-over-year basis in November. This suggests that, in many neighbourhoods, competition between buyers may have increased. Relatively tight market conditions over the past few months have provided the foundation for renewed price growth," said Mr. Bhaura.
On a preliminary seasonally adjusted basis, sales were down by 3.4 per cent compared to October 2018. The average selling price after preliminary seasonal adjustment was down by 0.8 per cent compared to October 2018.
"Home types with lower average price points have been associated with stronger rates of price growth over the past few months. Given the impact of the OSFI-mandated mortgage stress test and higher borrowing costs on affordability, it makes sense that the condo apartment and semi-detached market segments experienced relatively stronger rates of price growth in November, as market conditions in these segments remained tight or tightened respectively over the past year," said Jason Mercer, TREB's Director of Market Analysis.
Looking at the housing market from a policy perspective, TREB is encouraged with the provincial government's recent announcement and on-going public consultation regarding a housing supply action plan.
"Housing supply remains a key issue in the GTA market. More specifically, an adequate supply and appropriate mix of housing types must be part of the conversation, as has been recognized by the provincial government in their consultation documents. Transit supportive and gentle density 'missing middle' housing should be a priority. TREB has commissioned research on these subjects and looks forward to sharing it at our Market Outlook Economic Summit on February 6, 2019, and as part of the provincial government's consultations, when results are available in coming months," said TREB CEO John Di Michele.
"TREB is also encouraged that the provincial government remains committed to public transit expansion. TREB has long advocated for improvements to the Greater Golden Horseshoe transit and transportation network, and feels the time is right to have a conversation about the level of provincial and municipal responsibility that would be the most efficient arrangement to realize subway expansion sooner in Toronto, and the GTA, as this will impact the housing market," added Mr. Di Michele.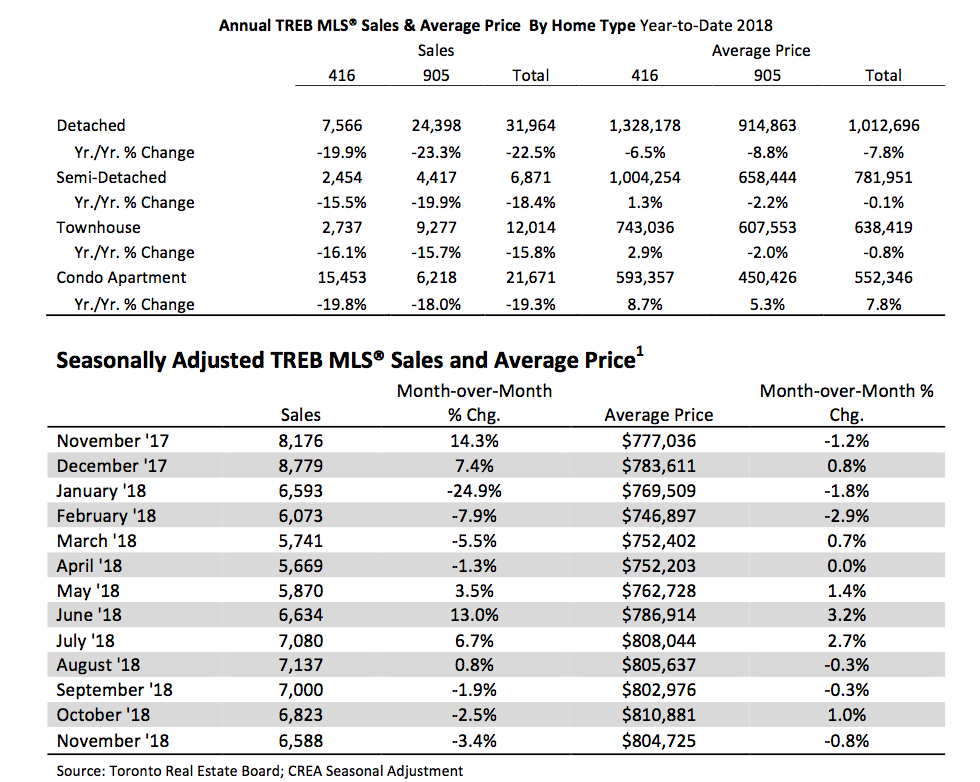 1 Preliminary seasonal adjustment undertaken by the Canadian Real Estate Association (CREA). Removing normal seasonal variations allows for more meaningful analysis of monthly changes and underlying trends.
For full report click here: TREB Market Watch November 2018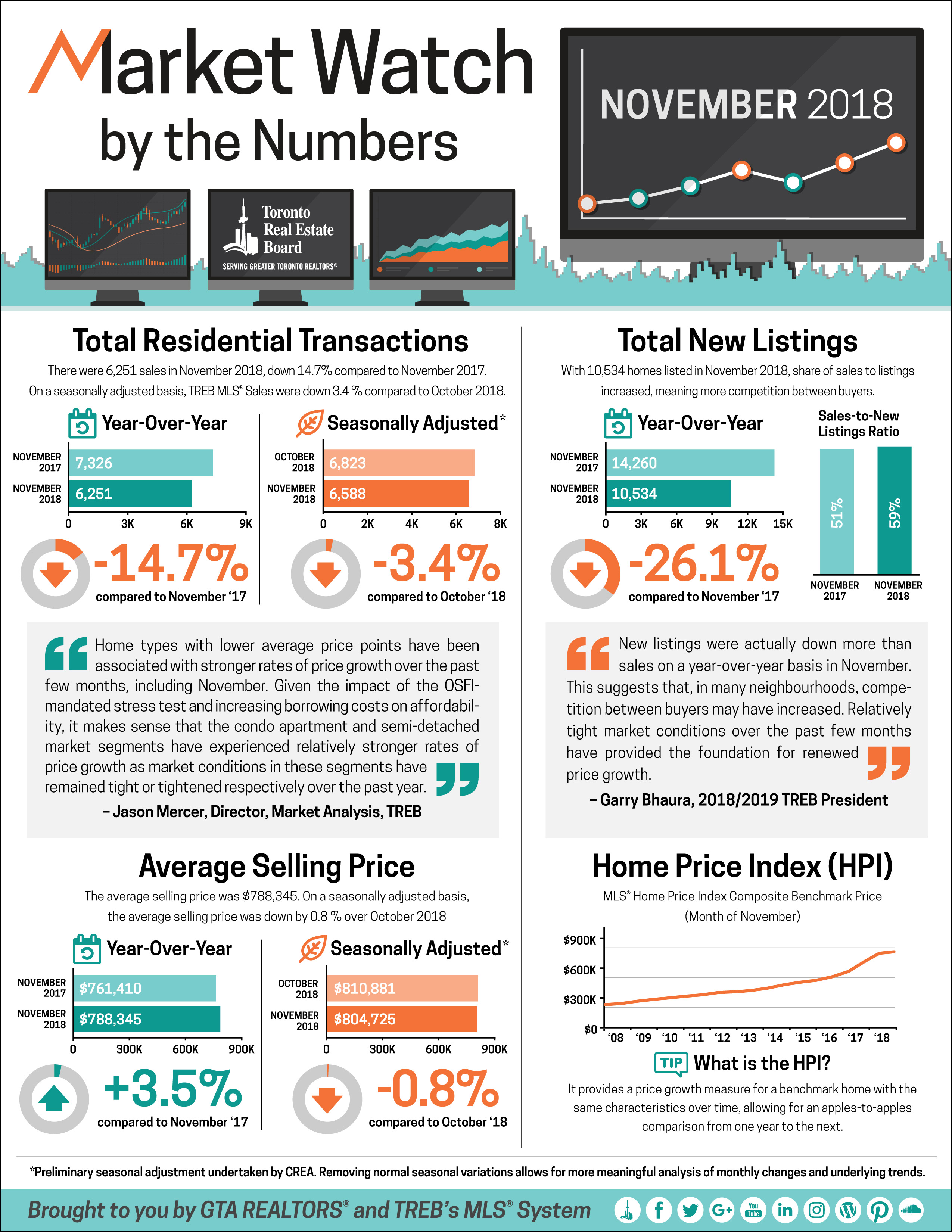 Media Inquiries:
Mary Gallagher, Senior Manager, Public Affairs [email protected] (416) 443-8158
TREB is Canada's largest real estate board. Over 53,000 residential and commercial TREB Members serve consumers in the Greater Toronto Area. Greater Toronto REALTORS® are passionate about their work. They are governed by a strict Code of Ethics and share a state-of-the-art Multiple Listing Service®.
The post GTA REALTORS® Release November Market Watch Report appeared first on TREB Wire .