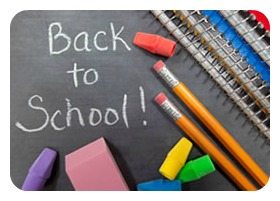 Going back to school can be tough after the lazy days of summer.
Getting back into the school routine can sometimes be a little hectic. Here are a few tips that will help make it a little bit less stressful on everyone:
Shop Early – The first few weeks of school are very busy and unpredictable so be sure to purchase your back to school items as early as possible.
Sleep Easy – Ease back into the school routine by gradually adjusting bedtimes (and wake up times) a week or so before to help everyone get back into the routine.
After School Plans – Start discussing extra-curricular activities and homework routines so you can organize your Fall schedule.
Have a Hub – Hang a calendar in a central spot where everyone can write down their activities and attach a folder for notices and permission slips so that everything's in one place.
Be Positive – If your child is anxious, listen to their worries but also pay attention to how you're feeling as sometimes the parent's anxiety can rub off onto their kids.
Going back to school is a very exciting time (for you and the kids) but it's also a period of emotional adjustment so try and make yourself available as much as possible during the first few weeks. With just a little planning, getting back into the school routine can be a nice, smooth transition.