The Globe and Mail
Published
Last updated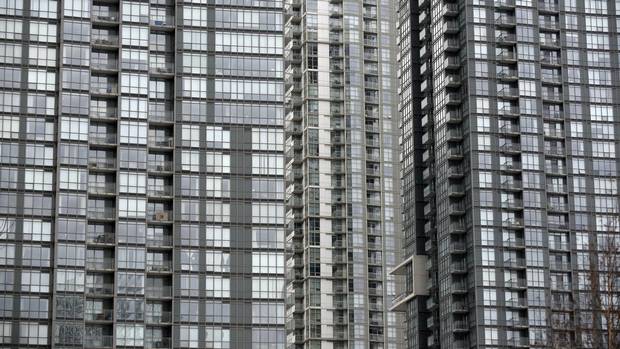 Sales of new condo units have surged 32 per cent in the Greater Toronto Area in the first quarter of 2016 compared with the same period last year, according to Urbanation.
(Fred Lum/The Globe and Mail)
The bidding melees that have flummoxed Toronto house hunters for years are erupting with increasing frequency in the condo market.
A one-bedroom-plus-den near Trinity Bellwoods Park on Queen Street West recently landed on the market with an asking price of $499,000. Robin Pope, of Pope Real Estate Ltd., took a pair of buyers to see the unit and told them it was under-priced, based on recent sales in the building. He estimated a more realistic selling price was around the $565,000 to $570,000 level.
The unit drew 13 offers and sold for $585,000.
"There really isn't very much inventory," he says, when it comes to desirable units in good locations. There are huge numbers of condos in Toronto but buyers who want to live in them for a few years are choosy about the location and the size. Two-bedroom units are particularly hot.
The Queen West condo is in a sought-after neighbourhood and that's likely why it attracted so much attention, he says, pointing out that there are only three other buildings nearby. Other areas in the core are much more saturated.
Mr. Pope specializes in Corktown, and in that popular neighbourhood, he says, contests are not limited to units for sale. Renters are also offering to outbid their rivals.
According to tallies recently reported by the market-research firm Urbanation, sales of new condo units surged 32 per cent in the first quarter of 2016 in the Greater Toronto Area compared with the same period last year. The 2016 tally came close to the first-quarter record set in 2012. Unsold inventory in new developments, meanwhile, shrank by 16 per cent in the first three months of the year compared with the same period last year.
Urbanation says the selling price for new units edged up 3 per cent to $582 a square foot in the first quarter compared with the same quarter in 2015. In the resale market, meanwhile, condo unit prices jumped 8 per cent to $467 in the three months to March 30th compared with the same period last year.
Shaun Hildebrand, Urbanation's senior vice-president, says much of the swelling demand for condos comes from buyers priced out of the single-family home market.
He explains that new condo prices have been held back by a shift in development from the GTA core toward more new projects in the 905 area code.
Sales of new condos in the 905 more than doubled in the first quarter from the same period in 2015, he says.
Mr. Pope says buyers looking for a single-family house are battle-hardened because competition has been the norm for so long. To help his clients buy a small house on a 50-foot lot near Danforth and Greenwood Avenues, he had to not only keep increasing the couple's offer but also try to outmaneuvre a rival agent.
The house, with an asking price of $749,000, was located on a dead-end street with a dog-friendly park nearby. His clients, who have two young children and a dog, loved the location.
Offers were set for a week or so later at 7 p.m. and Mr. Pope advised the clients to launch a bid of $911,000 as their opening salvo. He estimates there were seven or more competing parties in the fray.
"There were a lot of cars parked on the street."
The listing agent went through the offers with the sellers and then told Mr. Pope and two other agents that they were the top three. Could they improve their offers?
Mr. Pope went back and told his clients they would have to pay more if they had their hearts set on that house. They decided on $955,000.
Mr. Pope submitted the offer and there was some more waiting around. Then the listing agent called him and told him "your offer is about to expire". He had made it irrevocable until 10 p.m.
With each subsequent bid, the offer price changed but the other details did not. The agent asked for more time so that she could read through the offers still on the table with the sellers.
Mr. Pope thought it was odd that they hadn't done so in the three previous hours but he told his clients this was a new opportunity. The bids must be close, he figured, or the sellers wouldn't be wasting time poring over the details.
"This is a gift," he said. "Pay $10,000 more."
When Mr. Pope handed over a revised offer with an extension of the time the offer was irrevocable, he also increased the bid.
As he returned to the car, a competing agent waiting nearby asked if he had changed his offer. He told her he had changed the irrevocable without mentioning the change in price. After all, they were in competition and he was under no obligation to tip his hand, he explains.
He got back in the car with the clients and told them they were going to drive away.
"I wanted her to think that we had gone home and we were giving up. There was no need for her to hang around any longer."
He pulled around the corner, parked the car, and he and the clients ducked down as they waited for the other agent to pass, he recalls with a laugh.
Mr. Pope's clients got the house for $965,000. And all it took was a little subterfuge – in addition to the highest offer.
Removing all the conditions from a bid, launching a bully offer and attaching a heartfelt note are timeworn tactics now. Buyers are using any means to gain an edge.
Mr. Pope says the clients are ecstatic. Like so many house hunters at this time of year, they were exhausted by the race. The mom was a more seasoned real estate buyer but it was a first-time purchase for the dad.
"He was so happy to get the house. He was so happy not to be part of that zoo any more."