Hi, I'm Garry Bhaura, the President of the Toronto Real Estate Board for 2018/2019 and I'm excited to use this monthly column to help break down the numbers behind the GTA real estate market.
Breaking Down the Market in June
Personally, I was pleased when the June numbers came in as we are seeing some positive signs.
Both the number of home sales at 8,082 transactions, and the average selling price at $807,871, were up by roughly two per cent, when compared to June 2017. After a period of initial reaction by consumers in the face of market adjustments brought about by the Fair Housing Plan, as well as the new mortgage stress test requirement mandated by the Office of the Superintendent of Financial Institutions (OSFI) and generally higher borrowing costs, the June numbers suggest that buyers are starting to move back into the market.
Looking forward, we expect to see continued improvement in sales over the next year, however ongoing issues surrounding a lack of listings inventory could be problematic. Willing home buyers can't purchase what's not for sale and the danger is that if competition between home buyers increases we could return to a period of unsustainable price growth from an affordability perspective. This would serve to remove balance from the market.
For now, regardless of how you frame it, we know that home ownership continues to be a sound long-term investment. Despite recent short-term volatility in home prices, the average price of a GTA home has steadily trended upwards over time. I would invite you to review the infograph accompanying this article as it helps to illustrate the numbers and some of the longer term trends we're seeing in terms of price. It's a great way to better understand the market!
 Prioritizing Housing Policy Issues
 Starting with the provincial election last month and looking forward to upcoming municipal elections this fall, the Toronto Real Estate Board has been busy working with elected officials and candidates to ensure that home ownership and housing affordability issues are a priority on the agendas of policymakers at all levels.
In order to truly make strides in terms of housing affordability, governments must prioritize increasing housing supply, especially 'missing middle' housing options (home types that bridge the gap between detached houses and condominium apartments), and reducing tax burdens, such as land transfer taxes.
On the latter point, we have clear evidence that residents agree. In a recent poll of 1,200 GTA residents conducted by Ipsos Public Affairs in May 2018, 77% of respondents said they supported reducing the provincial land transfer tax, while 68% supported repealing it. Similarly, 76% supported reducing the Toronto municipal land transfer tax, while 69% supported repealing it. Most residents are opposed to land transfer taxes because they are a barrier to home ownership and discourage individuals and families from 'right-sizing', further constraining the supply of homes available for purchase.
We look forward to working with all elected officials to help provide effective solutions to housing affordability issues such as these and will continue to speak out for home buyers, sellers and renters.
I also look forward to keeping you informed and updated on activity impacting the GTA's housing market in the coming months.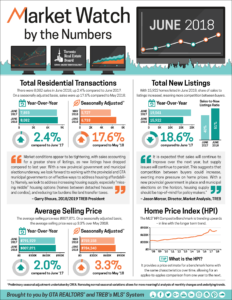 The post Behind the Numbers: A Deeper Look into the GTA Housing Market appeared first on TREB Wire .