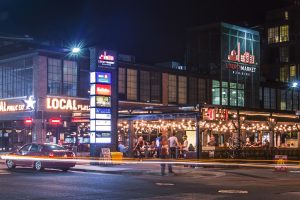 Regardless where you live, We are sure you are just going to love it. But here are 16 reasons why you would absolutely LOVE living in Toronto's  Liberty Village:
1. It's full of young people!
Home to endless startups, creative companies, and innovative businesses, Liberty Village is jam packed with young people, as well as the young at heart. Just before the work day starts at 9am, you can see endless young professionals hurrying off to work and you can't help but want to be friends with them.
2. It's also full of super cute dogs.
What do young professional who have their shit together love more than anything? DOGS! Liberty Village has a great abundance of dogs going for a nice walk with their owner at any given time of the day…especially French Bulldogs.
---
3. It's in the perfect location.
Some may say that Liberty is too far West, but we disagree. It is conveniently located just south of Toronto's trendiest shopping street, Queen St W, a hop skip away from the Entertainment district, as well as in close proximity to the lake!
---
4. It has easy access to the rest of Toronto, as well as the GTA.
If you were to venture more downtown downtown Toronto, Liberty Village is totally accessible via GO train, which will take you to heart of Toronto. It's also in close proximity to the highway and not a total nightmare to get to like from other areas in Toronto.
---
5. It has no shortage of great food spots.
Obviously a trendy neighbourhood like Liberty Village has a endless supply of awesome cafes and restaurants. Mildred's Temple Kitchen, Oats & Ivy, williams landing just to name a few.
---
6. It's proximity to Molson Amphitheatre means summer is just a little bit more fun at your place.
One of the worst things about going to Molson Amp is trying to leave. Cabs are a bitch to get, trains are jam packed, but you will be laughing all the way home and your peaceful and commute free walk.
---
7. It has great views of the CN Tower.
Often times when you live in the core of the city, the CN Tower is hidden behind tall buildings, or perhaps even too close to get a good look at. Liberty is juuuust far enough to get the perfect view of this majesty landmark.
---
8. It's relatively quiet compared to a lot of the city.
Living in the city is noisey, it's not a secret. Liberty Village is a bit less chaotic than other parts of Toronto, so you're sleep will be that much better.
---
9. It has amazing murals hidden around every corner.
Every other week it seems that a wall in Liberty Village is newly adorned with some kind of artwork. If you walk south down Atlantic Ave from King St, you can see a beautiful mural of a girl that went up on a few months ago!
---
10. There are plenty of patios to soak in the sunshine in the summer months.
William's Landing, Local, Brazen Head, and those are just the tip of the ice berg. There is honestly few things more enjoyable in the summer than grabbing some friends and heading to a patio in Liberty.
---
11. It's super, super clean.
It's actually amazing how clean this area is in comparison to other neighbourhoods in the city. We think it really shows that people living in Liberty take pride in their community and try to keep it spotless!
---
 12. There's no tourists!
While there might not be many attractions in Liberty, it comes with a bonus to locals living there: NO SELFIES STICKS!
---
13. There's an adorable farmer's market on the weekend.
Like cmon, who doesn't love a good fresh zucchini within 3 minute walk of their come?
---
14. There's tonnes of parking.
PARKING IS KEY IN TORONTO! Liberty has tonnes of parking for friends and fam coming to visit you, and honestly it's reasonably priced as well.
---
15. It's close to King St when you want to go out, but far enough that you're not disrupted by the wild Fridays.
You can totally hop on the King St streetcar and be in the middle of the action whenever you want, but also don't have to deal with heaps of drunk af people stumbling outside your building at 2am.
---
16. You literally never need to leave if you don't want to.
Liberty Village is the perfect place to live because it genuinely has everything you could ever want! 
---
liked this? check out: