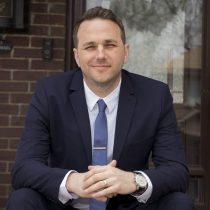 My name is Andrew Mcloughlin, and I'm here for you every step of the way.
Whether you're in the market to buy, sell or rent, there's nothing more rewarding for me than a satisfied client.
That's why I pride myself on delivering a single destination to help locate the right property for you in the neighbourhood you want to live.
Before becoming a realtor, licensed by RECO and a member of TREB, I worked in digital marketing for a leading investments firm. In this role, I honed the skills that I will employ to effectively market each home I list, and research each home I show.
First and foremost, I'm a family man, living in Toronto with my wife and our son. I'm also living proof of the Toronto homeowner dream, having lived in a downtown condo, a new build in Liberty Village and finally our family home in Davisville.
This diversity of experience gives me insight into the unique nature of Toronto's varied communities.
I'm here to represent your needs and your best interests. I do this through my in-depth knowledge of this industry and the unique communities that comprise our vibrant city.
My pledge to you is simple: I care because you do.
I can't guarantee that your move will be stress-free, but I can promise that I will work hard to help you find the right home in an area that's just right for you.
I will provide you with all the information you need to make the most informed choices regarding your ideal sale or dream home purchase.
Mobile: 416-831-3100